The Parallel State by Guy Martin July 27 - October 27, 2019
The Parallel State is a multi-layered project which began life as an examination of the Turkish soap opera and film industry, but evolved over the course of five years into a semi-fictional study of truth, reality and lies in contemporary Turkey. This blending of fact and fiction during a period that saw the rise of totalitarian rule in Turkey is deeply resonant to the experiences of contemporary American society.


Guy Martin is a London based British photographer. This work was the recipient of the Project Launch grant from CENTER, Sante Fe in 2014 and was first shown at Les Rencontres d'Arles as a recipient of the New Discovery Award in 2017. The book of the project, published by GOST, has been shortlisted for the
First PhotoBook Award
granted by Aperture in New York and Paris Photo, and copies are available at Pattern.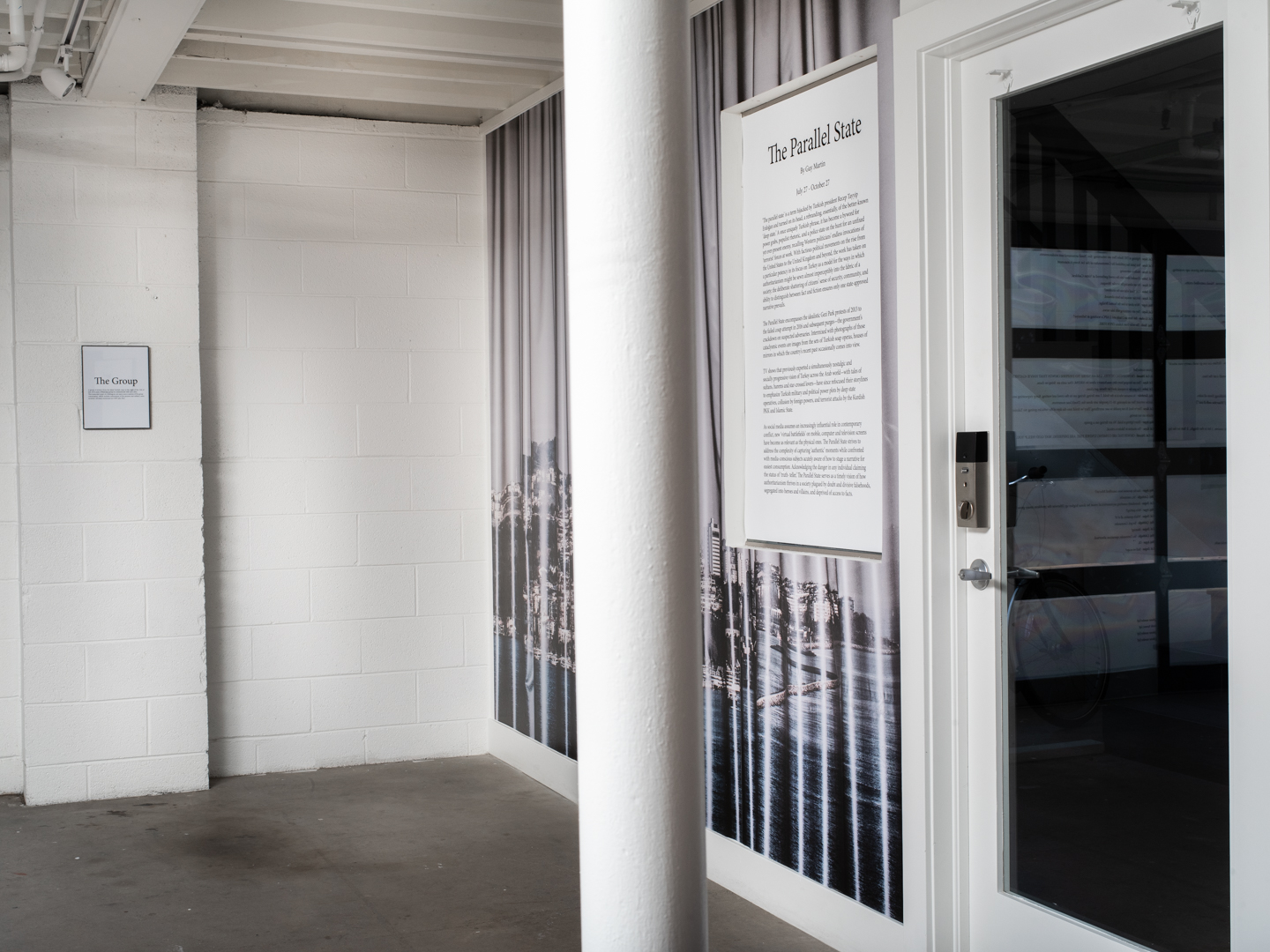 ---
The Watcher by Terry Ratzlaff - June 21 - July 21, 2019


Craig C. has been watching trains from the parking lot of The Old Mill since 1983. He confessed he watched trains obsessively, without missing a day for 11 years and 6 days. To Craig, trains symbolize the hands of a clock, dictating the passage of time. Over time the act of seeing transforms into a structural mechanism, meant to re-integrate thought and action. The ritual of seeing functions alongside the ritual of notation. Over time the notations are transmuted into analytic structure and organized chronologically. They become the direct physical object of Craig's obsession with time.



Photographically, Ratzlaff employ a similar approach. Through systematic repetition he has constructed a ritualistic approach to making photographs of Craig watching trains. The process is routinized, disciplined, structured, and most similarly, obsessive. He act as a mechanized collector, building a cache of images that appear homogeneous in nature, but because of the concept of time, every image represents static content within a renewed moment.
---
Border Stories by Elliot Ross and Rachel Woolf - May 6 - June 14, 2019
Border Stories looks at the southern border by bringing two distinct bodies of work into conversation with one another.

The first, Elliot Ross's American Backyard is a sweeping look at the 2,000 mile border. Through collected vignettes, the project aims to look at border issues as they play out in daily lives. Beyond talk of The Wall, there is a larger, less transparent story to be told about our Borderlands to do with creolization, acculturation, habitat loss, surveillance and diversity.

Rachel Woolf's Deported: An American Division, on the other hand, focuses on one family. Lourdes Salazar Bautista had been living in Ann Arbor, Michigan for the past 20 years along with her 3 children, all born in the United States, when she was deported. Lourdes, along with her two younger children, left for Mexico soon after the hearing in August 2017. Woolf's project follows the Bautista family through this separation, exploring the impact of immigration policy on one family that is now divided by borders.